Did you ever stop to think if it is possible for you to send a single email that closes a million dollar deal? Sounds like a pipedream for most of us mere mortals. But it is possible. Even for a B2B company that sells a high value solution to a savvy and experienced business buyer.
The secret is deceptively mundane and staggeringly effective. You can get a flood of new B2B deals, (not just leads) more than you can handle, in a single 24-hour day, if you time things correctly. And you'll be able to achieve this type of quota crushing growth if you pay close attention and take massive action.
Note: There are no affiliate links in this blog post (just links to vetted resources that will help you solve problems faster).
What Is This?
A sophisticated three-phase system that is often used in consumer marketing and lends itself to complex, high value sales. The process I'll outline makes heavy use of automation so it's naturally well suited for low-margin sales, like B2B ecommerce.
However, marketers have since documented and demonstrated it to work equally well for marketing products and services that have ultra high order values, long sales cycles, and complexes solutions as in real estate, franchise business sales, luxury items, high end training programs and information products, software as a service, solar panel installations, finance and investment systems, and reverse mortgages.
Many of these industries are complex and deeply regulated, and ultra competitive with low margins. Their consumer requires substantial education while building rapport and demonstrating value over time. Where the buying decision is not made in a vacuum but by a small committee that must come to consensus. Sounds familiar?
What to Expect?
This process will feel familiar and perhaps foreign at the same time. I'll briefly outline the process, how it works, what it might look like for a B2B company, and then I'll point you to vetted resources that will help you fill in the gaps, so that you can build your very own customer generation engine that works as much as 80% on autopilot. Yes! You can do that for a B2B company. And it can be used to make headlines.
Why Am I Showing This to You?
I've been fortunate enough to play a key part in the development and growth of many B2C and B2B companies. And what have I found over the past 20 years, over a billion dollars in revenue generated, and conducting marketing programs in over 40 different industries?
There are a lot of ways to make money. Some of them work better than others. This is one of those counter-intuitive ways that a B2B company can adopt industry-leading best practices into their business. Using these tactics while no one else in your industry is, will certainly give you a strong distinction that will multiply your profits exponentially.
What Can You Do With It?
I've heard Ryan Deiss, Co-Founder at Digital Marketer, say, "The person who can afford to pay the most to acquire a customer will have the most customers."
The question is how can you afford to pay the most to acquire a customer? The answer: Master this Three-Phase Funnel process well enough to teach it to your team. Let me show you how the math works and the process at a high level, then we'll dig into each aspect, briefly, and I'll link to additional resources you'll need along the way.
The Power of the Process
Before I continue, I want you to fully understand the value of this blog post. If you wanted to learn the basics of what I'm about to show you, you'd need to spend a few thousand dollars on a comprehensive digital marketing certification course, like from Johanna Weibe, Russell Brunson, or Jeff Walker.
Then you'd need to invest a huge bucket of money, while filling another bucket with blood, sweat, and tears. You'll count sleepless nights instead of sheep until you've fully adapted, configured, and validated it all to work for your non-consumer-based B2B company. Good luck! I have that t-shirt.
Or you can just use what I have here. Because I've found the three books you need to read to master this process and earn your rightful spot in the demand-generation Hall-of-Fame.
And if you get stuck and need help, there are additional options at the bottom. I invite you to choose the one that best fits your needs.
And I digress.
High Level Overview
Step 1: Build an Audience Using a Lead Generation Funnel
The 1-Page Marketing Plan: Get New Customers, Make More Money, And Stand Out From The Crowd
The best thing about this book is that it gives you a flow chart that mirrors the customer acquisition process. If you follow the instructions in the book, you'll end up with a complete plan and strategy that is founded on customer insight and objective data. You can build a complete demand generation, sales operations, and order fulfillment plans and processes around what you find in this book.
Begin with a Lead Magnet Funnel
Use a lead magnet funnel to collect targeted leads. A lead magnet funnel is simply a funnel where you acquire leads by giving away something in exchange for their email address. Consider it an ethical bride where your prospect trades their contact information, and then gives you permission to communicate with them. The best lead magnets offer a small piece of useful value, but are alone incomplete, as it is a small splinter of much larger and comprehensive solution.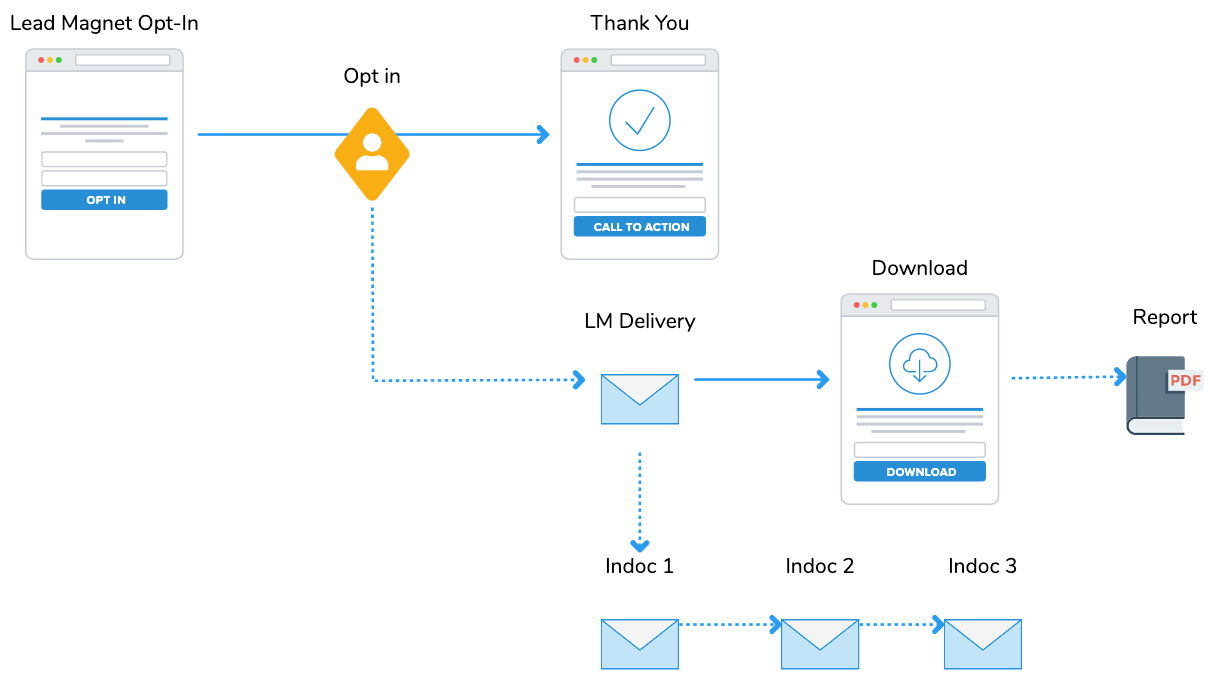 Transition to a Survey Funnel
The next step after collecting leads is to enter discovery to progressively profile them so that you can understand more about their role, interests, preferences, and underlying motivations. Conduct a survey funnel to gather the required customer lead insight and objective data you need to eliminate risky assumptions.
The goal of the survey funnel is to acquire leads by surveying visitors. With the survey, you will segment them and offer them relevant offers based on the information they provided.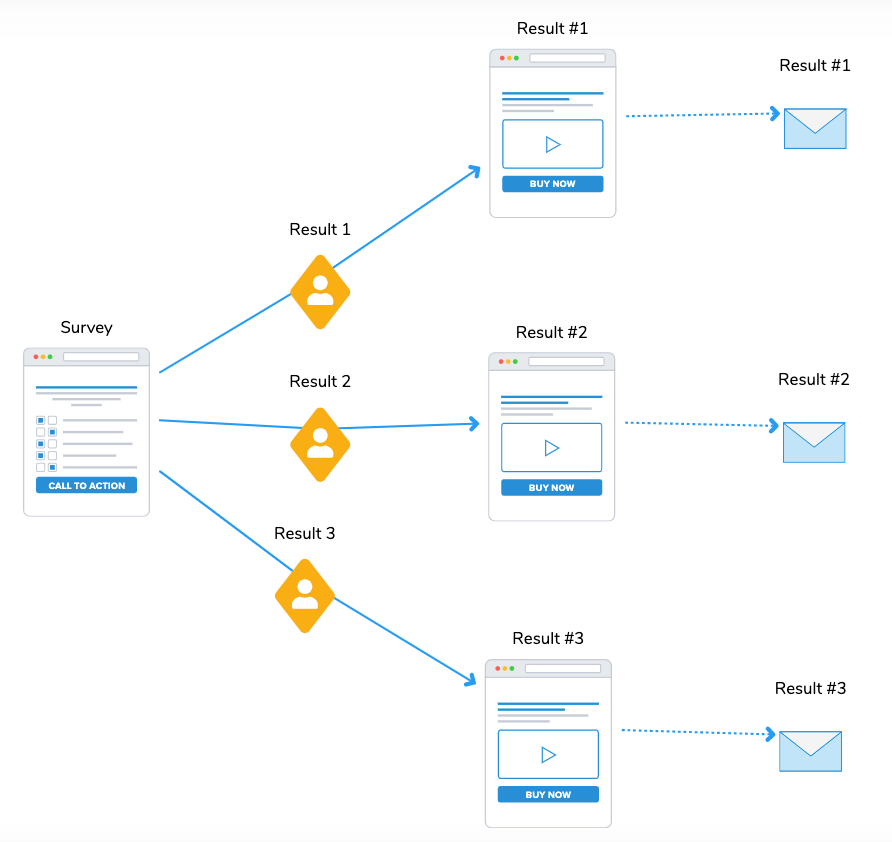 Step 2: Conduct a Jeff Walker-style Product Launch
Over a 7, 14, or 21-day period, progressively warm-up, educate, and engage your audience with a B2B product launch to focus, nurture, and accelerate the sales cycle.
Ever thought you could send a single email and make 10 million dollars? You can. If you prepare for that day where you send that million-dollar email. How do you do that? Jeff Walker will show you in this book. You'll use the principle you learn in this book to identify the tactical strategy for designing your funnels and theory behind it. Jeff Walker offers very high-end and intensive coaching programs which is worth every penny, but can definitely get you into the weeds fast.
Launch: An Internet Millionaire's Secret Formula To Sell Almost Anything Online, Build A Business You Love, And Live The Life Of Your Dreams
Step 3: Post New Deals En Masse Using a Revenue Generation Funnel
Conduct a multi-channel digital Launch Day with comprehensive Outbound Sales Enablement, and Inbound Lead Qualification to get a flood of new deals into your pipeline in a single 24-hour period.
What I respect about Russell Brunson is his ability to ask the right questions and learn from the other gurus he meets on his travels, test their material, improve it, and then of course, we can count on him to share the process with his devotees for a five and six figure price tag. If you don't want to move to Boise and jump on the click funnels bandwagon, you can read both books. You'll find the tactical help you need to implement and master this process.
DotCom Secrets: The Underground Playbook for Growing Your Company Online (1st Edition)
Expert Secrets: The Underground Playbook for Creating a Mass Movement of People Who Will Pay for Your Advice (1st Edition)
If Your Customers Aren't Swiping Their Credit Cards to Buy Your Solution, Use the Mini-Class Launch Funnel.
Begin With a Four-Part Video Mini-Class
Think of this four-part video series as a way to educate your targeted prospects, who at this stage are mainly warmer leads. The funnel is engineered in four parts. The first phase is called "Wow + How", where you will talk about your big idea and demonstrate how you and others are using your concepts successfully. The second installment is called the "Transformational Education." In this step, you will let people behind the scenes and walk them through the process detailing how the outcome is achieved. The third video is called "Ownership Experience," where you show the viewers what it's like after they have worked with you. You outline what they will experience. And last but not least is video four, where you make the offer and sell your product.

Transition to the Application Funnel
Immediately follow up by sending prospects to this step to get a flood of new first sales meetings and new deals from your newly warmed-up prospects.

If Your Customer Does Desire to Swipe a Credit Card to Complete a Transaction With You Then You Should Try the Product Sales Funnel
Begin with a Webinar Funnel
The webinar funnel's goal is to sell a high ticket offer by getting your best prospects to register for an online event. At the end of the webinar, you would make them a special, limited time offer, which would add scarcity and urgency. Make sure you run at least these four polls during the webinar to capture their "biggest struggle", "progress made so far", "what is holding them back", and "what is next for them in their mind". With a captive and interested audience, the webinar funnel works well for medium to high-value and complex offerings.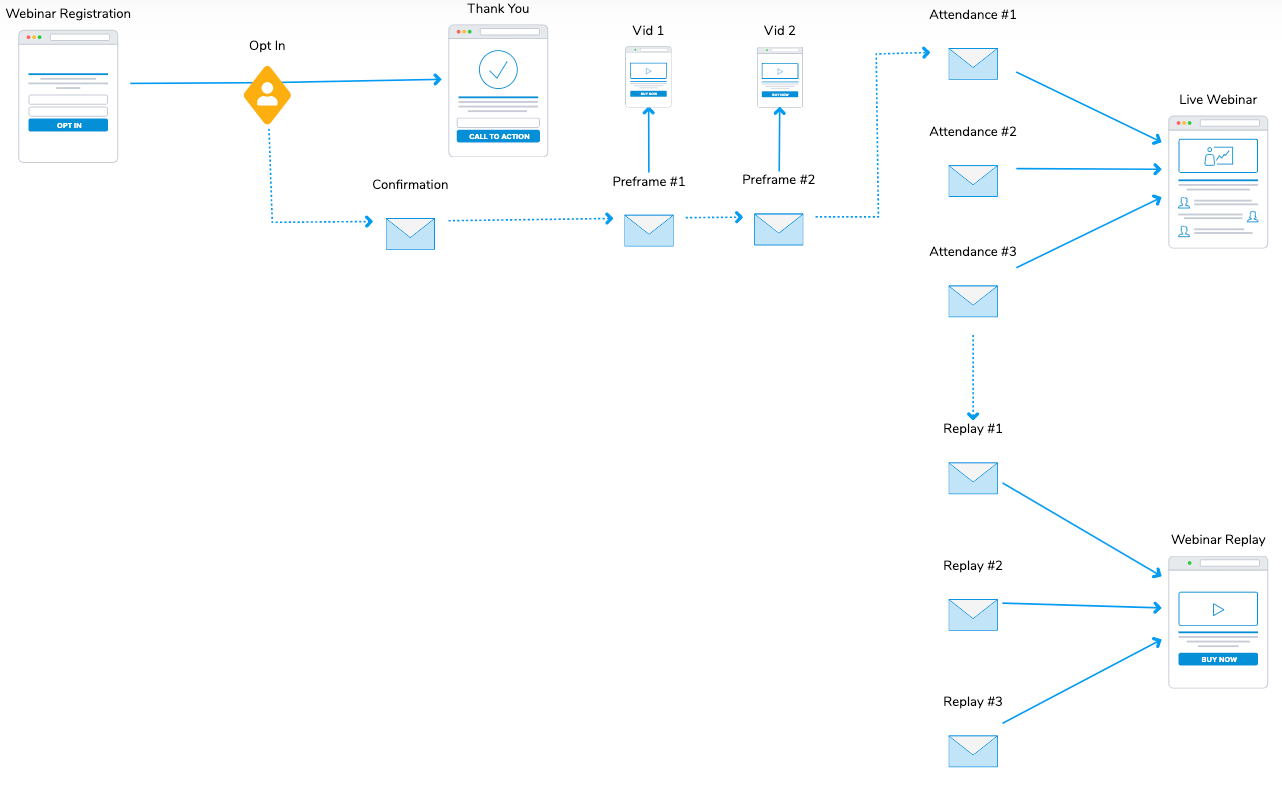 And Then Transition to a Product Sales Funnel
The product sales funnel qualifies buyers and closes deals. During this funnel you offer sufficiently warmed-up prospects an irresistible offer and a low-ticket item. Now that your prospect is now a customer, you will offer them strategically positioned upsells and down-sells to increase the average order value.
This funnel aims to help your organization break-even with advertising spend. It's quite useful at fundamentally changing the nature of your relationship with your prospect. The product sales funnel consists of a series of staged upsells and down-sells and begins with a self-liquidating offer: A critical ultra low-barrier step means you'll only be dealing with customers going forward and not selling to prospects. This funnel affords you the new opportunity to encourage customers to ascend your value ladder where you make the real money.

Final thoughts
If you use the concepts and tools in this blog post, you can create a demand generation process for your B2B company. If you sell high value, complex solutions with long sales cycles then making use of the three-phase funnel process will give you a razor sharp competitive edge, helping you close deals with higher value quicker. And all that makes me happy.
Give it a try.
If you need help implementing what you read in this blog post...
Need help with Growth Planning for your B2B company? Speak to the experts who invented The Fastest Path to Revenue. Schedule your free 1-hour strategy session.
Considering Agency Support? Begin with a 15-min call.
Join us each month as we deep dive into the latest B2B sales, marketing, and demand-generation challenges. Register for the webinar to get updates and reminders.
Each week listen as Mike Faherty and a new world-class leader discuss the Big 3 of B2B, personal, professional, and organizational growth. Listen to the Big 3 of B2B on your favorite podcast player.