Webinars are a popular marketing tool, with more than 80% of marketers surveyed saying they find webinars to be effective. Nearly 30% of marketers surveyed said they use webinars for demand generation.
While webinar attendance is rising overall, many still find it challenging to get people to sign up for and attend their webinars. The good news is that there are many ways to promote your webinar and boost attendance, and most of these methods will cost you zero dollars!
Here are some of the best ideas we discovered during our research and through our webinar promotion campaigns.
1) Get some feedback
Take the time to collect some feedback after each webinar about the subject, speaker, platform, and overall experience. You can post a poll on social media or send out an email survey to those who attended the live event.
This information will not only help you improve your webinars, but you can also use these reviews and testimonials to promote upcoming webinars in email announcements, social media posts, landing pages, and more.
2) Optimize your webinar landing pages
Regardless of whether your webinar landing pages are set up for organic or PPC purposes, make sure your copy is clear and concise. You want to ensure that everyone who comes to the page can understand what the webinar will be about and the time and date it will be held.
Will there be a replay? Will you offer slides? Are you going to award certificates of attendance? Will you have a prominent guest join you for the event? Make sure all of this information is listed on your webinar registration page.
If your webinar page can be found on search engines, then be sure to include keywords like "webinar," "[your industry] webinar," and "[your topic] webinar." Make your page as easy as possible to find for those who are searching for webinars about your industry or topic.
To promote sharing and boost sign-ups, add social sharing icons to the landing page if you don't have them already.
3) Add a webinar sitelink extension to your ads
If you're advertising on search engines like Google or Bing, you can add a sitelink or callout extension to your ads promoting your webinar. A sitelink is preferable because people can click on it and go directly to your webinar registration page from the search results.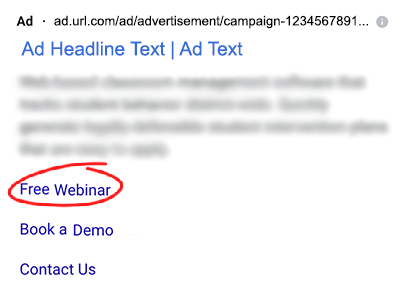 You might also consider running ads specifically for the webinar on a low budget to see if it's worth the investment.
4) Add a webinar sign-up popup to your website
Hundreds or even thousands of people are likely already visiting your website every month, and not promoting your webinar to them is a lost opportunity. Your website users are probably among the most inclined to attend your webinars, so why not implement a popup that invites them to join? You can add this popup to your home page or put it on specific pages like your blog or video library.
5) Make a preview video or slideshow for social, ads, and landing pages
Website visitors and social media users are becoming less interested in reading and more accustomed to watching videos. Make sure your webinar information is also available in video format for those who don't want to or don't have the time to read your landing page or social post text.
Using video is a must when it comes to social media because many platforms, like Instagram, are focusing on video content to compete with newer social media platforms like TikTok. Publishing a video may even boost your post in the algorithm, depending on the platform.
6) Register your webinar on directory websites
Did you know there are directory websites for online events, including webinars? Some are exclusively dedicated to webinars to help people find the best upcoming webinars in their areas of interest.
Once you create a free account, you can add your webinars to sites like Eventbrite, TellOnline, and WebinarKhoj. Using these directories can help people outside of your organic and paid reach find your webinars.
7) Create events on LinkedIn and Facebook
Like webinar directory sites, Facebook and LinkedIn allow you to create events on your page. These events go into event directories where other people can find them based on categories and keywords. You can also invite friends and followers to your events and promote them with advertising.
It only takes about five minutes to set up a LinkedIn or Facebook event, so this is one step you don't want to skip.
8) Add your webinar sign-up link to email signatures
All of those emails to prospects and customers can be put to good use by adding links to your email signature. You and your team can help promote the webinar by adding a link to your webinar page with the anchor text "register for our upcoming webinar" or "sign up for our free webinar."
Experiment with the text by using one version and having a colleague use another to see which one gets more clicks. To test this effectively, make sure you are using tracking links.
9) Use blog CTAs to promote your webinars
Do you get a lot of blog traffic? Even if only one or two of your blog posts get significant web traffic, adding CTAs to your blog can keep people on your website longer and help you generate leads faster.
Try making a CTA about your free webinars that links to your webinar page. Place this CTA on your blog pages, starting with the most visited posts. Experiment with the placement of the CTA, putting some above the fold, some in the middle of the article, and others at the end.
10) Promote your webinar replays
If you have already hosted one or more webinars, why not use your past webinars to generate interest in your upcoming webinar? One way to do this is to make your webinar library available for free. Show people what they're getting when they sign up for your webinar by allowing them to view previous ones. Some studies have shown that you can double your registration rate by making your replay videos available on demand.
Be sure also to specify the benefits of attending your webinars live rather than waiting for the replay. This may include giveaways, audience interactions (like live Q&As), or exclusive tips that won't be in the replay.
11) Write a promotional blog
If you have a blog set up on your website, you can write or outsource a blog post that promotes your next webinar. Your article doesn't have to be limited to a detailed event announcement; you can use your blog to write about the webinar topic, publish a short interview with your guest speaker, or ask your guest speaker if they'd like to contribute a guest blog on the subject.
Once readers become even slightly invested in the webinar topic by reading your blog, they might be more inclined to register for the webinar.
12) Write a LinkedIn article
While you're writing a blog post, you can write a second, similar article to publish on LinkedIn. LinkedIn articles can be quickly shared with your network, and you can tag key contacts to start a discussion around the topic. LinkedIn also favors LinkedIn articles because they keep people on the site, so you might get more viewers this way.
To get the most out of your LinkedIn article, write an eye-catching title, aim for at least 1,500 words, and add relevant, useful images.
13) Start giving away the webinar content
You likely already use social media to promote your webinars, but what information are you giving away? Are you telling your audience the date and time of the webinar, or are you also telling them more about the topic?
Try giving away a few points from the webinar presentation to pique the interest of your followers.
14) Write a guest post about the topic
If you know what your webinar lineup looks like in advance, start writing articles about your upcoming topics and publish them as guest posts on similar blogs in your industry.
Guest blogging outreach can be a lot of work, and it's not guaranteed that you'll be successful at the right times. If you have trouble homing your guest posts before your webinar, you can always publish them as LinkedIn articles or repurpose them for your blog.
15) Keep your registration forms simple
Asking for too many contact details can put anyone off of registering for a free event. All you need to get started is the registrant's email address and name.
Registration forms provide the perfect opportunity to get more information from your audience, such as demographics, interests, and challenges, but resist the urge to put all of these fields into your webinar registration form. You'll lose leads, and the data you collect might not be that valuable.
16) Make sure attendees can connect with hosts and speakers
One of the key benefits of attending a live event is being able to interact with the host, speakers, and fellow audience members. Research has shown that 92% of webinar attendees want and expect a live question and answer session during a webinar.
If your webinar platform doesn't allow the audience to submit questions or have a chat feature to talk amongst themselves, try coming up with a Twitter hashtag that everyone can use to keep the conversation going during and after the event.
Be sure to monitor the hashtag feed for incoming questions during the presentation, or you can make a special hashtag for submitting questions to make them easier to keep track of.
17) Use unconventional methods
Direct mail, phone, and SMS text are all innovative ways to promote your webinar (unfortunately, you can no longer send an electric telegram). Direct mail is seldom used for webinar promotion, but you can experiment with sending direct mail invites to key targets in your industry if you have the budget. Keep in mind that it's harder to track conversions with direct mail in addition to it being much more expensive.
Some webinar hosts choose to remind registrants with a phone call using automated voicemail, and others use SMS text reminders. There is an added cost to going this route, and it's usually more expensive than sending out email reminders. However, you might get higher attendance with SMS and voicemail as emails lack urgency and are often overlooked.
18) Offer a replay or presentation slides
You can encourage more registrations by offering replay recordings or presentation slides in lieu of attending the live event. Many people in your target audience group are too busy to attend live webinars, but that doesn't mean they aren't interested in the topic or content.
To get around this, you can offer to send a replay or just the presentation slides after the webinar or at the start time of the webinar. This may encourage people not to attend the live event since many like to do things at their convenience, so be sure to make the benefits of attending the live event very clear when giving them a choice between the live content or the replay.
It's a good idea to offer your presentation slides to your registrants regardless, as many will find them useful. One study showed that half of the audience downloaded presentation slides sent to them after the webinar. Offering the slides might also make your audience more engaged and less likely to be distracted with note-taking during the event.
19) Post your social promos at the best times
If you've been posting on social media for a while, you've likely noticed that your followers are more active and engaged with your content at certain times of the day. If you haven't given this any thought, scroll through your social content and note the details about your most successful posts.
What time were they posted? Which days were they posted? Which hashtags did you use? What was the format of the content? Use this data to your advantage when posting about your upcoming webinars on social media.
20) Choose the best time of day to host the webinar
Make sure you're hosting your webinar at a time when the most people will be available to attend. This can depend on your industry and how your audience spends their off-hours.
Generally, you have two options: host your webinar during the workday, or host it during the evening when most of your audience is off work (most webinars occur during the week and not on weekends).
The pros of hosting your webinar during the workday: This is a great time for many to hop on a webinar. Your audience will be alert and in work mode, ready to learn about new topics in their industry.
The cons of hosting your webinar during the workday: Some of your audience will be too bogged down with work to attend, or they may have too many distractions in their office or work environment.
The pros of hosting your webinar after work hours: Your audience will likely be finished with work and available for a webinar. They'll be able to pay closer attention without the usual distractions of messages, emails, and phone calls.
The cons of hosting your webinar after work hours: While you won't lose people to work distractions, you'll run the risk of losing them to personal errands, long commutes, and family time. Many might be tired from the workday and won't be in the mood to do work-related activities.
One way to choose the best time is to poll your audience on social media or send out an email survey asking about the best time and day to host the event.
21) Announce the next webinar during the webinar stream
Do you have your webinar schedule lined up in advance, including the speakers and topics? If you know what your next webinar will be about, talk about it at your current webinar to get attendees interested, and encourage them to sign up. You might even give away a few highlights to get your audience invested in the topic and give them ideas for questions to submit in advance.
22) Post your webinar videos on social media
Your webinar promotion doesn't stop when the webinar is over. You can publish post-webinar promos on social media, or upload webinar highlight videos to YouTube to attract more people to your website. Once your highlight videos are on YouTube, they'll be easily shareable for you and your viewers.
23) Include an "add to calendar" button in your registrant email
Adding an "add to calendar" button to your registrant confirmation emails can help you boost your attendance and ensure your registrants are alerted when the webinar begins. You can also include one in your reminder email if they did not add the webinar to their calendar the first time.
Here's an in-depth guide that shows you how to create an add to calendar link for emails.
24) Make a perpetual registrant option
Some of your registrants might get tired of having to sign up for each new webinar, so why not make a perpetual registration option? It can be as simple as adding a checkbox to your sign-up form that enrolls the registrant in all future webinars.
If you decide not to do this, make sure your webinar registration forms are always available to collect sign-ups, even between webinars, to avoid losing potential leads.
25) Advertise on your website
Are you taking advantage of all the additional space on your website? You can place webinar banners and sidebar ads that promote your upcoming webinars on your most viewed pages.
Any time someone visits your website, they'll be able to see the webinar announcement and go directly to your webinar sign-up page with one click. Make sure to use tracking links so that you know how many sign-ups you can attribute to your ads.
What are your best webinar promotion ideas? Let us know in the comments!