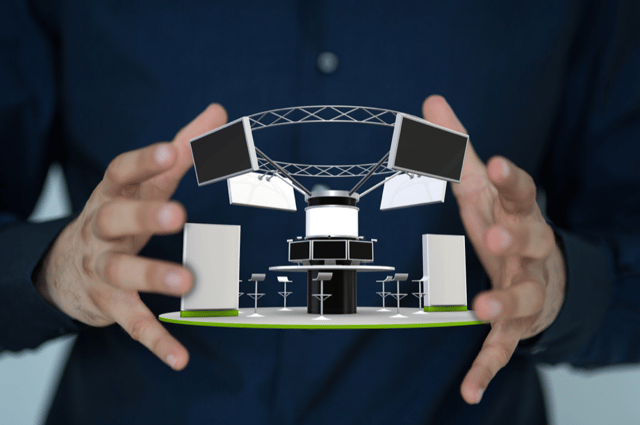 You need to get your budget approved for a trade show, but like most Marketing Directors and Marketing Leaders, you're dreading that conversation with the CEO or Finance department to justify the expense.
And because of past experience, you might also be doubting the effectiveness of trade shows and whether to send your team to the next event. Consider this: studies have shown that about 81 percent of trade show attendees have authority to purchase your solution. That represents tremendous selling opportunities.What you need is a trade show plan before the event to capture how you will generate a return on investment for your company.
This plan will allow you to present the event strategy internally for budgetary approval and formulate the campaign to market your solution at the trade show.
Here is the inside track to get your budget approved and have a successful trade show campaign generating a measurable, positive ROI. To get even more insight on a successful trade show strategy, contact ProSales Connection to have a conversation about your needs.
1. Set a Goal for the Trade Show
First, establish the objective for attending the trade show. Not every campaign or marketing expense will be easily tracked to capture the ROI. However, you should set attainable goals.
When going through the trade show planning process, ask yourself:
Are you just looking to build awareness for your company or solution?
Do you need to generate leads for the sales team?
Do you need to close opportunities or sales?
Be sure to define success and attach a number, such as the number of leads that your team needs to generate or the number of sales that you need to close. This will strengthen your case to get the budget approved.
2. Attend the Right Show
You need to make sure you are attending the right show. There is risk of wasting time, money, and resources attending an event where your target audience is not present.
You must be able to make the case that the trade show you are planning to attend will help you achieve measurable goals. Be sure to ask yourself:
Is there enough traffic to meet our goals?
Are the people and organizations attending the trade show the fit for our solution and align to our ideal buyer personas?
Does the trade show attract influencers and decision-makers who can make purchasing decisions?
If you do not know these answers beforehand, then consider taking the next step of gathering more information about who will be attending the show.
3. Obtain the Attendee List
Most trade shows offer an attendee list beforehand, so take advantage of that information. If there is an add-on or upsell cost, then negotiate the list as part of the event price.
Having a list of qualified attendees will strengthen your case to get the budget approved. You also need that list so your sales team can warm up the market before the event.
With the list, the sales department will be able to:
Outreach before the event to build awareness.
Pre-qualify attendees as a good fit for your solution.
Schedule a brief meeting/demo at your booth or at a separate location during the event.
This will give you a running start before the trade show to be prepared to have quality conversations with attendees who are qualified for your solution.
4. Announce Your Trade Show Attendance
It's good practice to announce that you will be attending the trade show. Also, when drafting your proposal to get the budget approved, be sure to highlight how you will inform the public of your attendance.
The best methods to inform the public are:
Posting the trade show schedule on your website and social media
Writing a blog explaining why you are planning to attend
Send out an Eblast to your customer and prospect list highlighting the event
Customers want to find you at the trade show and be able to see your solution in person. You can prime the market by detailing why you are excited about this year's trade show and what you are looking to accomplish. This will set up your team for success to generate ROI at the event.
5. Gain Commitment from an Executive to Attend
You need to work your internal relationships to line up at least one high-ranking executive or manager to attend the trade show. This will add credibility to your proposal by identifying how an executive will have a strong impact on the success of your marketing campaign at the event.
Then, be prepared to promote your executive attending the trade show through your website and email communication. When attendees see that they will be able to meet a key leader of your company at the event, it will create tremendous awareness and interest.
Decision-makers and influencers also want to talk directly to a person responsible for the solution, creating credibility for your solution and more opportunities to have productive conversations.
6. Update Your Marketing Materials
The visual of your trade show booth could make or break an opportunity to connect with a future customer. So, update all marketing materials to project the right image of your company.
You will encounter attendees whose first exposure to your company or solution is your trade show booth. Ensure that your presence represents your brand and captures the value proposition of your solution.
When presenting your trade show plan internally, be sure to include notes on your presentation:
What is your campaign strategy?
How will your marketing materials reflect the brand?
How are you marketing the solution to trade show attendees?
Is your booth visually appealing and attractive to draw in attendees?
You could have the best solution in the world, but if the marketing materials do not capture the attention of attendees or do not convey the right message about your solution, then you are unlikely to have a productive experience at the trade show.
7. Prepare Your Team For Trade Show Success
Your team needs to understand the vision and purpose of appearing at the trade show. Be sure they are aware of the goals, how to accomplish the goals, and what image you need to project to attendees.
Additionally, you need a plan for your trade show booth:
Who will be manning the booth?
What are the conversation points to stress the value of your solution?
Is your team prepared to have conversations with qualified leads from the list?
Schedule breaks so that someone is at the booth at all times prepared to answer questions and have conversations.
Be sure to capture your plan for how to operate the booth in your internal pitch. This will show that your team is prepared to execute a strategy to achieve the goals for investing in the trade show.
Overall: Prioritize the Trade Show Plan
Take the time to formulate the trade show plan. This is vital to your success receiving approval for your budget and then executing a strategy.
We know that trade shows take up a big chunk of your marketing budget, especially with add-on costs such as acquiring a list to pre-qualify attendees. That makes it even more important to have a plan before the trade show to generate ROI for your company.
To learn more about how ProSales Connection can work with you to formulate a trade show plan, consider hiring our firm for a campaign to execute "pre-show" outreach to the show attendees and a follow-up campaign to schedule meetings with leads and visitors that showed interest in your solution.
Click the following link to learn more about our Trade Show and Marketing Event Recruiting programs, or contact me directly to have a conversation about how ProSales Connection can help execute your marketing strategy.